Student Voice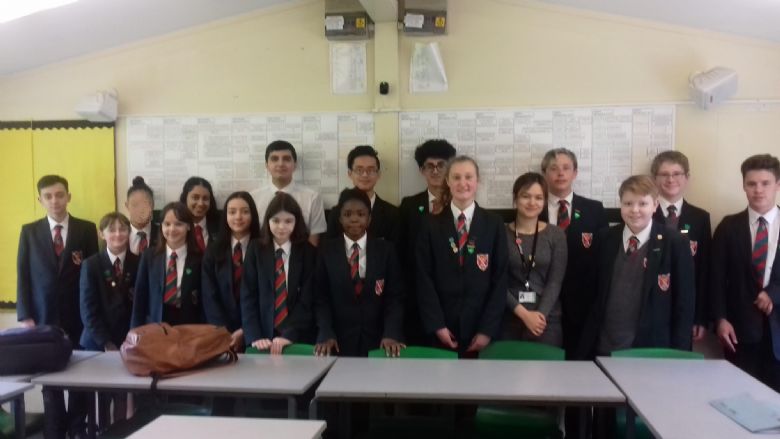 The Student Voice Committee consists of a cross-section of students (up to six from years 7-11) elected by the student body. The sixth form leadership team, including the Head Boy and Head Girl, also attend meetings.
Hustings and elections for Years 8 – 11 take place in June and the Year 7 elections take place in October.
Students work collaboratively on individual projects and meet on a fortnightly basis to discuss their progress and ideas. Please see the links to the left of the screen for more details on the work we have been doing.
Key areas we are committed to:
Teaching and Learning
Providing opportunities for student feedback on all teaching and learning issues through interviews and surveys.
Carrying out student observations and looking through books to help improve our learning.
Improving the learning environment in the classrooms.
Communication
Providing the opportunity to propose the ideas of all students.
Ensuring pupils are kept informed of updates.
Providing a link between students and staff.
Keeping pupils aware of local and national issues affecting them.
Environment
Improving the school's environmental needs.
Improving and maintaining the school's facilities.
Key Responsibilities:
Attend Leadership training
Attend Student Voice Meetings every 2 weeks
Support the school with either:

Student Focus groups
Staff interviews
Showing visitors around the school
Parents Evenings and Celebration Evenings
Communicate the work of Student Voice to our peers
Give feedback about our areas of responsibility and evaluate the impact of our work
Represent the school at events in the local community
If you would like to get involved or share your views then please speak to a Student Voice Leader (listed below) or to Mr Kunig. You can also email studentvoice@vynersschool.org.uk with any queries, comments or concerns.
| | | |
| --- | --- | --- |
| Name | Form | Position |
| Alice Day | 7C | |
| Ella Brown | 7C | |
| Harry Todd | 7F | |
| Aidan Gallagher | 7H | |
| Robert Ginger | 7M | |
| Anya Colgan | 7W | |
| Sarah Clack | 8H | |
| Jaspreet Minhas | 8H | |
| Heenam Jeganraj | 8M | |
| Jaya Patel | 8W | |
| Madeline Wootton | 9C | |
| Reyes Pollard | 9G | |
| Fraser Brannigan | 9G | |
| Asia Benina | 9H | |
| Katie Ginger | 9W | |
| Keira Harvey | 9W | |
| Rhys Lister | 10C | |
| Joshua Todd | 10G | |
| Hannah White | 10G | |
| Amelie Rule | 10M | |
| Benjamin Surguy | 10W | |
| Amy Ginn | 10W | |
| Sam West | 11C | Prefect |
| Helen Caines | 11C | Prefect |
| Cormac Sibley | 11F | Prefect |
| Andrey Kosov | 11F | Prefect |
| Joshua Bottomley | 11G | Prefect |
| Szymon Migacz | 11G | Prefect |
| Amy Holdcroft | 11G | Prefect |
| Tara Goolamali | 11G | Prefect |
| Haleh Hassanzadeh | 11H | Prefect |
| Jack Grey | 11M | Prefect |
| Jack Hurst | 11M | Prefect |
| Emma Crawford | 11M | Prefect |
| Lucy Murray | 11M | Prefect |
| Aaryan Marwaha | 11M | Prefect |
| Sumayya Noor | 11W | Prefect |
| Dylan Houston | 13F | Head Boy |
| Edith Longdon | 13C | Head Girl |
| Ryan Pandit | 13F | Deputy Head Boy |
| Stanley French | 13M | Deputy Head Boy |
| Sophie Gorse | 13F | Deputy Head Girl |
| Riya Malhotra | 13F | Deputy Head Girl |